Description
Volume Limiting Products
Listening to music in headphones at too loud of a volume for too long exposes you to the risk of noise-induced hearing loss. Our volume limiting headphones prevent workers from listening to audio at unsafe levels by keeping the speaker volume below 82 dB.
All of our volume limiting headphones are clearly marked with a red body color, which you can see between the tip and the cord. The highly-visible red color allows you to easily look for compliance standards quickly. Volume limiting is not available on all Plugfones models. It can however be found on certain FreeReign, Protector Plus, and Protector models.
Volume Limited (VL) products meet OSHA standards for safe workplace all day listening and safety.
Learn More
The introductory product to our Industrial Line, the Plugfones FreeReign is packed with features that you would expect from a Plugfones product with some enhanced and strengthened aspects for harsher environments and work settings.
Included with the FreeReign are 2 different types of plugs (4 sets total included), the first is a comfortable silicone plug rated at a 27 NRR (noise reduction rating) and the second is our patented foam 3-tier plug that leads the industry with a 29 NRR (noise reduction rating). It features our Never Out™ battery which provides 12 hours of listening on a single charge.
It is also equipped with Fast Charge which allows you 2 hours of additional listening on just 10 minutes of charge. The attached cable clip keeps the cord secured and out of the way. Bluetooth control is equipped with song ahead, song back, volume up, volume down, answer, hang up, and decline a call.
The IsoTalk™ noise isolating mic dampens ambient noise in busy environments while enhancing vocal audio to make calls clear and concise. The cable collar is a comfortable addition that helps to keep the FreeReign in place without any movement but can be removed entirely should you choose that. For organization, a durable carbon fiber case is included.
Exclusive in our industrial line is the Tough Cord feature which is a braided exterior sheath on the outside of your cable to help protect the wiring from damage in tougher environments. In addition, the copper soldering points have been reinforced for durability.
SoundSeal™
Noise-Suppressing Technology
SoundSeal noise-suppressing technology minimizes environmental noise to give you an immersive, unparalleled listening experience. It acts as a barrier between you and everything you don't want to hear, creating an atmosphere singular to you and your music.
Bluetooth®
Wireless Technology
With Bluetooth 5.0 you can listen to a Bluetooth-enabled smart device from at least 33 feet away. Some users have reported a range of over 100 feet with direct line-of-sight.
NeverOut™
Battery
Stay comfortable and protected for longer with the NeverOut Battery. Featured on wireless Plugfones, NeverOut gives you up to 12 hours of play time with a full charge.
Fast Charge
All wireless Plugfones feature Fast Charge, the technology that gets you two hours of play time for only five minutes of charging.
TuffCord™
Tear-Resistant
You work hard—and so should your earplugs. Industrial Plugfones products feature TuffCord, a flexible and tear-resistant cable that protects the wires of your favorite earplug-earbuds.
IsoTalk™
Noise Isolating Mic
The IsoTalk is a built-in noise isolating mic that helps reduce noise for phone calls. The mic identifies, isolates, and kills environmental noise so the person on the other end of the call can hear you, not what's going on around you.
Quickdraw™
Easy Access Control
Control your music and manage calls with the Quickdraw Easy Access Control. Ruggedized buttons allow you to play or pause, answer or end calls, adjust volume, progress through songs, and more.
WorkSafe™
Volume Limiting (VL) Technology Available
WorkSafe Volume Limiting Technology keeps speaker volume below 82 dB and compliant with OSHA's max volume guidelines. The jack contains strategically placed resistors to restrict volume levels from reaching the full capabilities of the attached device.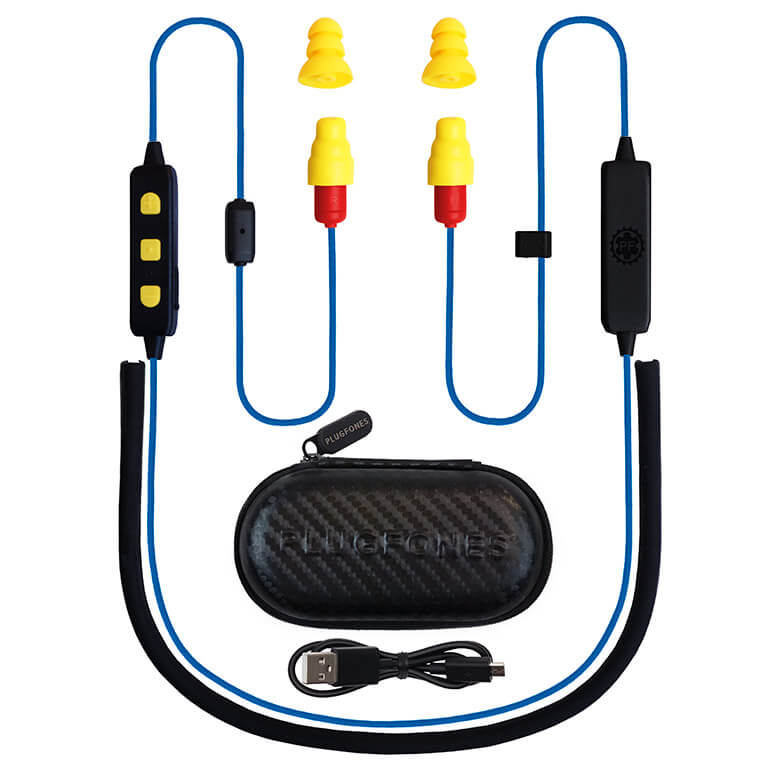 FreeReign™ Wireless Earplug-Earbud Hybrid
(2) Pairs Interchangeable Foam Plugs
(2) Pairs Interchangeable Silicone Plugs
Nylon Zipper Case
Cable Management Clip
USB Charging Cable
Quick Start Guide
Features
WorkSafe™ Volume Limiting (VL) Technology Available
SoundSeal™ Noise-Suppressing Technology
Interchangeable ComforTiered™ Foam Plugs with Noise Reduction Rating of 29 db
Interchangeable ComforTiered™ Silicone Plugs with Noise Reduction Rating of 27 dB
Bluetooth® 5.0 Wireless Technology
Never Out™ Battery – Up to 12 Hours of Play
Fast Charge
Tear-Resistant TuffCord™
IsoTalk™ Noise Isolating Mic
Quickdraw™ Easy Access Control
Tuned Speaker
Sweat-Resistant
Independently Tested and Compliant With ANSI S3.19-1974 Noise Reduction Standards as Certified by Michael & Associates, Inc.
Unique Patent Pending Design
Specifications
Length: 34″
Weight: 0.6 ounces (16 grams)
Speaker Type: Tuned
Plugfones® Certified Noise Reduction Ratings
The most important thing to remember about Plugfones is that they're earplugs first and earbuds second. As such, the entire Plugfones line is tested and compliant with ANSI S3.19-1974 noise reduction standards and meets NIOSH criteria. When used as directed, our products are certified for Noise Reduction Ratings (NRR) of 29 or 27 dB, depending on the plugs used. For environments with high levels of noise, it may be necessary to use over ear protection such as earmuffs in conjunction with Plugfones products.
Plugfones have been independently tested to meet U.S., E.U., and Australian standards. For more information, visit our Safety page.
WorkSafe™

Volume Limiting (VL) Technology

Safety is key to the success of any workplace project. That's why we've worked closely with OSHA's max volume guidelines to create our VL Plugfones. VL models feature volume limiting technology that keeps speaker volume below 82 dB, which is compliant with OSHA's standards. On these VL marked products, specially tuned drivers restrict volume levels from reaching the full capabilities of the attached device.